06 Dec

EMP: Manufacturing with Intent. Click to keep reading…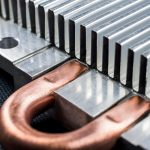 Electro-Mechanical Products (EMP) understands the critical demands and importance of thermal management for today's high power components. We manufacture custom cold plates and embedded-tube heat exchangers for the semi-conductor, medical, high end computing and laser industries. Manufacturers of standard cold plates cannot compete with EMP's greater design freedom relative to the placement of cooling lines, dimensional compliance, choice of fittings and manifolds, and custom mounting features.
Complementing our cold plate manufacturing, EMP is also a full-service machine shop with more than 85 CNC work centers.
Some of our extensive capabilities include:
Custom thermal management devices including embedded tube heatsinks/cold plates and other thermal management devices
Fabrication of copper and stainless tube coil assemblies (ranging in size from 1″ – 6″ in diameter to several feet in length)
Pressure and flow testing
Hydraulically expanded stainless tubes embedded for cryogenic or highly corrosive fluids
Hydraulically expanded copper tubing into aluminum plates
3, 4, and 5 axis capabilities
High-volume machining for complex manufacturing projects
Tight tolerance machining to sub 1-thousandth (± 0.0001 inch)
Wire EDM
Real time probe inspection on CNC
Design for Manufacturing (DFM) engineering resources
EMP delivers superior quality and service on every part manufactured. Contact us today to learn more about EMP products.