08 Aug

Pressure Forming and a Whole Lot More! Click to keep reading…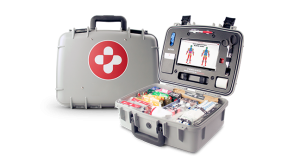 When a medical device company was looking for a partner to manufacture a rescue system to complement an AED (automated external defibrillator), they turned to Bo-Mer Plastics. Bo-Mer excels in custom thermoforming, rotational molding, plastic and metal fabrication.
To complete the comprehensive project, we utilized pressure forming, 5-axis machining, screen printing and painting of the case inserts. The interior weight was laser cut and powder coated. We procured other components and labels, and completed the assembly of the interior panels.
The system includes modern supplies to manage multiple emergency situations, and allowed the customer to be well equipped for traumatic events.
If you need a cost-effective alternative to injection molding for low to mid-volume production, contact Lupton Associates today.