27 Feb

EMP: Thermal Management products where Innovation Meets Performance. Click to keep reading…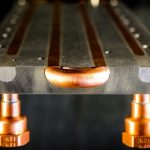 As a global leader in the manufacture of thermal management products, Electro-Mechanical Products (EMP) employs the latest technologies, materials and engineering techniques to create custom products including:
Cold Plates/Chill Plates

Flat Plate Heat Exchangers

Custom Coil Windings

Nonmetallic Heat Diffusers

Heat Spreaders

Water Cooled Electrodes

Finned Heatsinks

Water Cooled Laser Housings
 EMP leverages cutting-edge manufacturing techniques to bring our customers' designs to fruition. With a track record spanning more than 40 years, EMP has developed innovative methods for the fabrication of thermal management devices in an ISO 9001:2008 controlled factory environment. These proprietary processes enable EMP to control costs, maintain exceptional quality, and give customers the best performance for their most challenging thermal projects. Contact Lupton Associates today to learn more about EMP.